Meyer Memorial Trust and Pride Foundation have been long-time partners, and share a deep and ongoing commitment to advancing equity in our foundations and more broadly in the field of philanthropy. Pride Foundation is a community foundation working in Oregon, Washington, Montana, Idaho and Alaska to inspire giving to advance opportunities and expand full equality for LGBTQ people.
Ever since Meyer CEO, Doug Stamm, and Pride Foundation CEO, Kris Hermanns, participated in a CEO learning cohort to help them advance equity, diversity, and inclusion at their foundations, we have found ways to learn from and support one another's journeys over the years.
In 2015, Meyer offered critical financial support to help us deepen our racial equity work and host a Philanthropy Northwest Momentum Fellow, a fellowship program to create a pipeline for underrepresented professionals, particular people of color, to find entry points into philanthropy. Pride Foundation has offered our knowledge and expertise about the issues LGBTQ communities face in Oregon to help Meyer further integrate LGBTQ issues within their equity lens over the past few years, including coordinating all-staff trainings and programmatic support.  
This year, Pride Foundation is deeply honored that Meyer has chosen to make another significant investment to support our work in Oregon.
This could not have come at a more critical time for community philanthropy and the LGBTQ community in Oregon. As Pride Foundation finalizes our merger with Equity Foundation (an LGBTQ community foundation that had been working just here in Oregon), the opportunity to grow the resources to create safe, affirming communities for everyone in Oregon is enormous. More broadly, LGBTQ people in our state still face structural discrimination and racism, and our movement continues to experience significant backlash to the progress we have made. On top of this, the organizations working on our behalf have been chronically underinvested in, resulting in lean and unstable infrastructure to support our community.
Over the next three years, Meyer is awarding Pride Foundation a total of $225,000. $150,000 will help to grow our capacity and continue to deepen and expand our work in Oregon. Meyer is also investing an additional $50,000 for us to fully implement our racial equity innovation plan to center racial equity in everything we do at Pride Foundation.
To help us further solidify our efforts and encourage others to make similar investments, Meyer has also put forward a $25,000 challenge grant. Over the next few months, our supporters will have the opportunity to make a critical investment in our work in Oregon — and have that support doubled by Meyer.
"Meyer is excited to partner with Pride Foundation in expanding opportunities and advancing full equality for LGBTQ people across Oregon," said Candy Solovjovs, Meyer's Director of Programs. "We hope our investment inspires others to join us in providing philanthropic support and helping to create an Oregon where all LGBTQ people are valued, safe, and supported."
We are profoundly appreciative of Meyer's continued investment in our work — and in LGBTQ people and communities throughout Oregon.
Data from the National LGBTQ Task Force and Center for American Progress demonstrates just how at-risk LGBTQ immigrants and refugees are from this administration's actions:
Nationwide, there are more than 267,000 LGBTQ adults who are undocumented without a path to citizenship — nearly one-third of all LGBTQ adult immigrants.
LGBTQ people who are undocumented are disproportionately more likely to be arrested and detained by ICE.
LGBTQ detainees are fifteen times more likely to be assaulted when they are in detention — particularly transgender women.
Over 75 countries have discriminatory laws that target LGBTQ people, and in 7, a person can be put to death for being LGBTQ — resulting in thousands of people applying for asylum each year.
This grant award is certainly significant to us locally, but it also points to a critical step on Meyer's part to address some troubling statistics about the level of institutional investments in LGBTQ communities more broadly.
Despite the growing need for support and services, funding from private, community, and corporate foundations for LGBTQ issues continues to be alarmingly low — and is steadily decreasing. While we have made progress, LGBTQ communities are still not invested in at the rate that is required to fully address the needs of everyone in our community.
This underinvestment, coupled with the fact that LGBTQ people continue to face harsh conditions across many aspects of our lives — especially elders, people of color, transgender people, Two Spirit people, youth, immigrants and people living in rural communities — paints a stark reality for so many in our community.
Impacting these deep-rooted issues and creating lasting change will take continued, focused effort — and resources. This fact makes us that much more grateful for Meyer's ongoing partnership, leadership and commitment to LGBTQ issues and communities in Oregon — because it is a clear indication that change is indeed happening.
— Katie Carter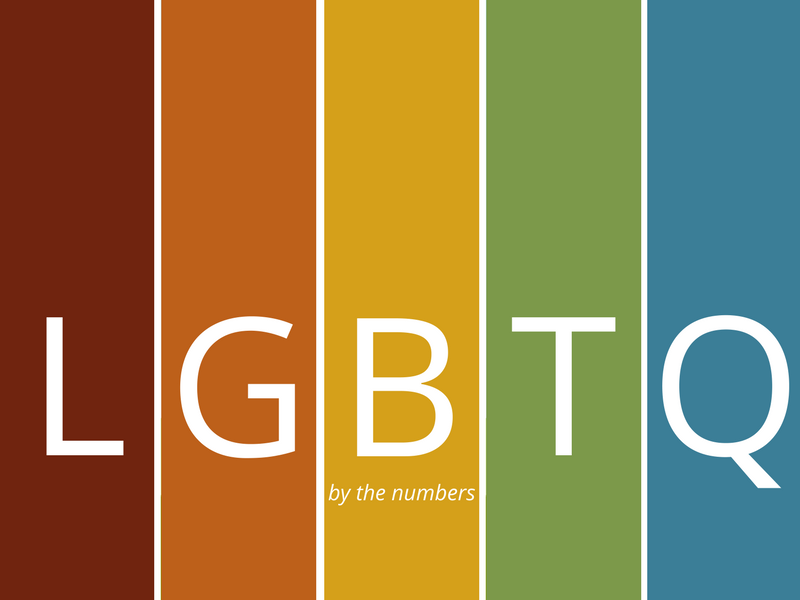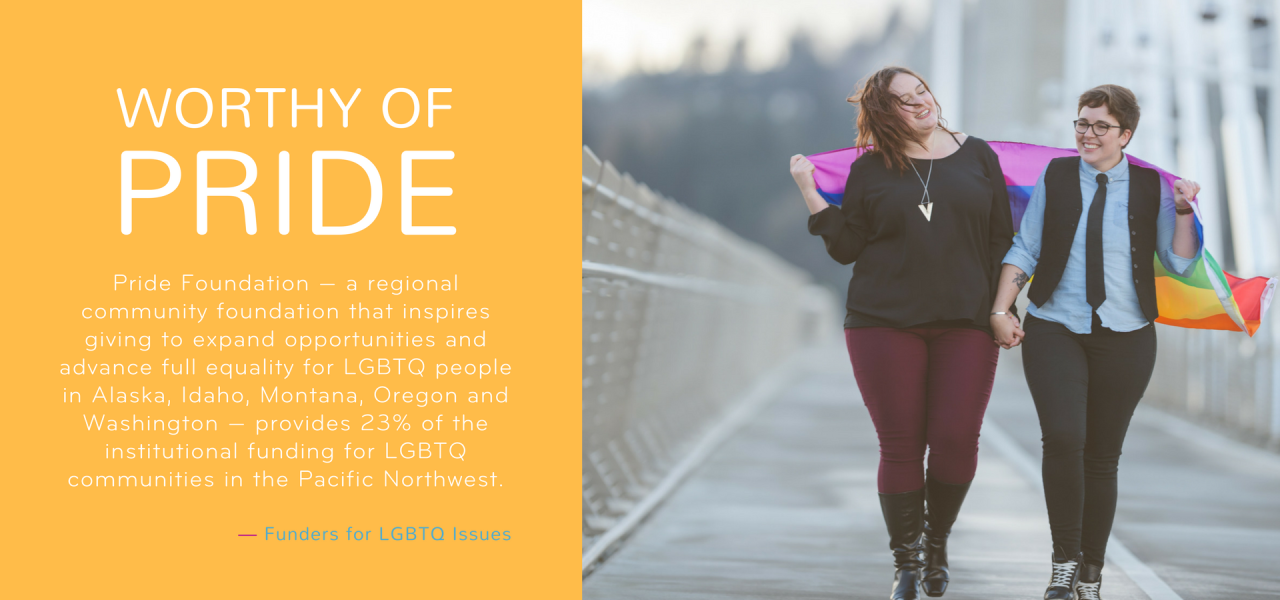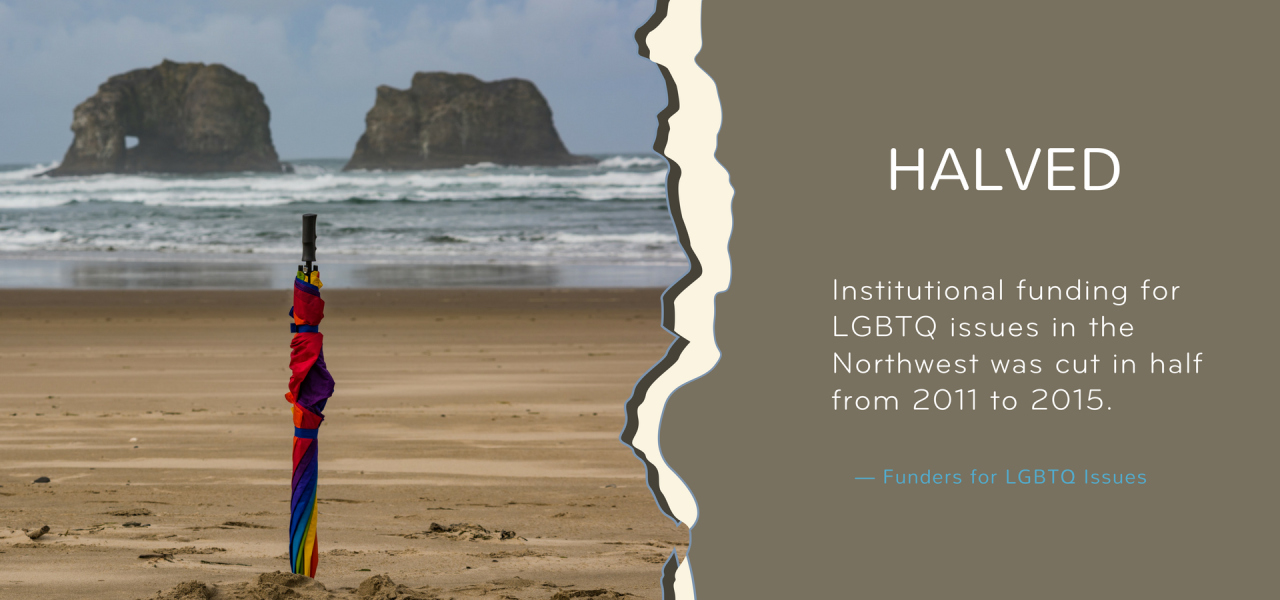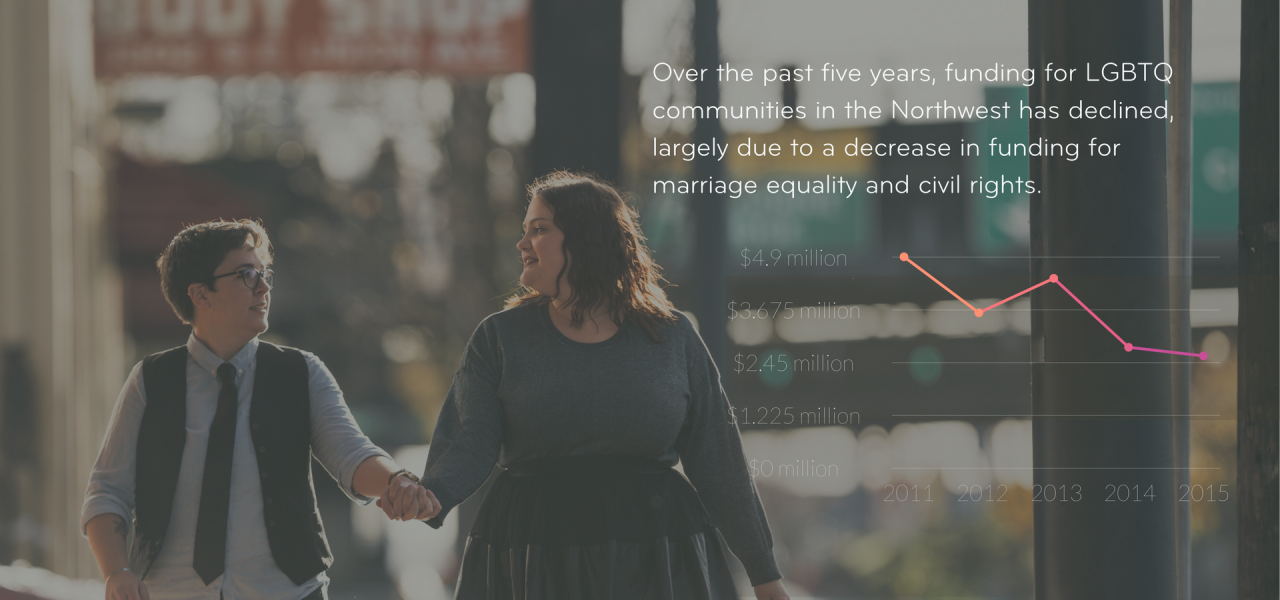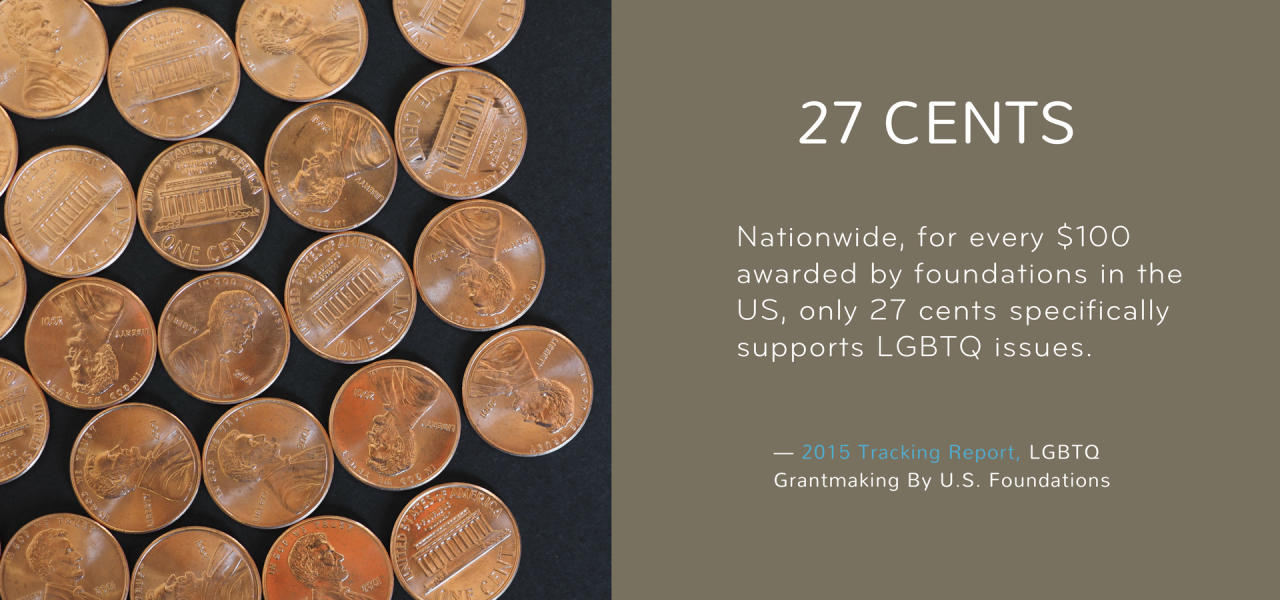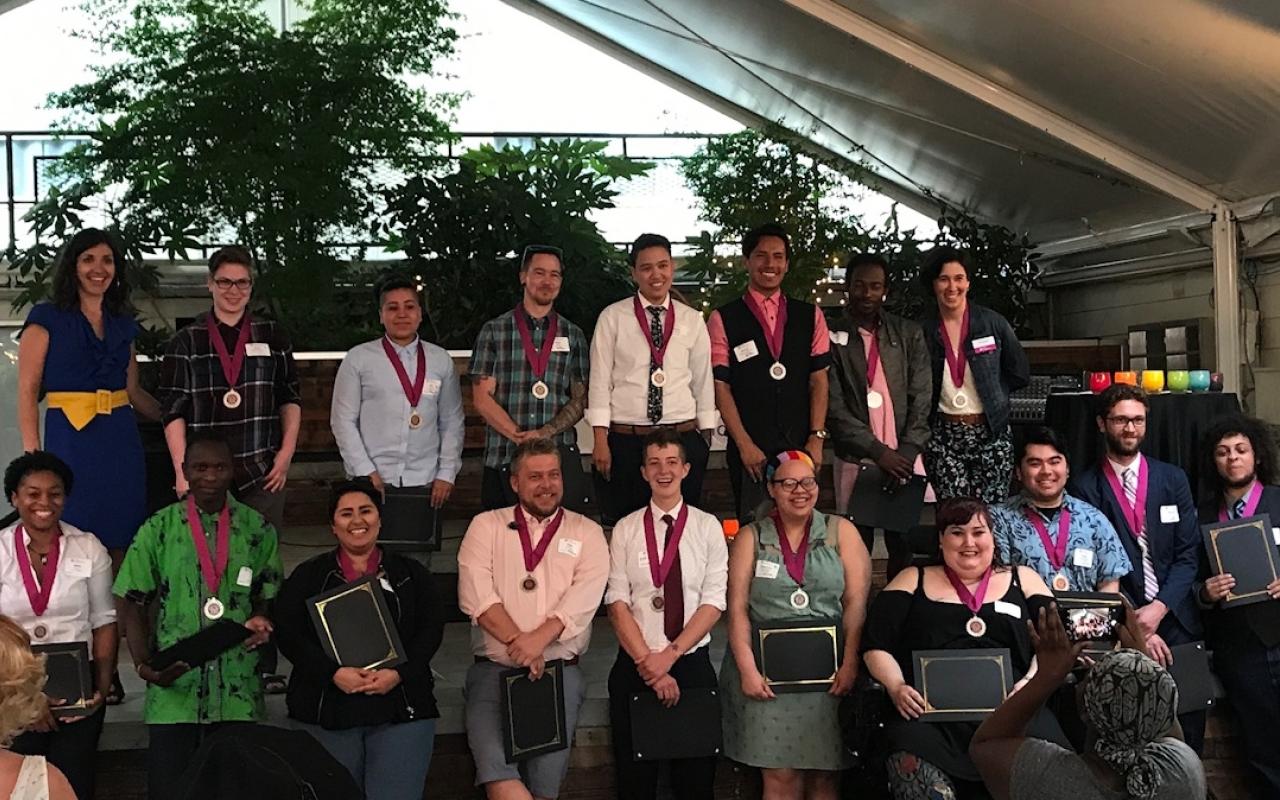 Pride Foundation's 2017 Oregon scholarship recipients, receiving their scholarship awards and being honored for their leadership at the 2017 Scholarship Celebration in Portland.