A new year, a new direction
Looking for the Annual Funding Opportunity?
In 2023, Meyer will be announcing a new structure for grantmaking. We are currently working closely with our communities, staff and board to design a funding process that is more integrated and fundamentally community-centered. It will be a process that better aligns with our new strategic framework: to use an anti-racist feminist lens to strengthen movements, change systems and support communities to build an Oregon that works for all. This change also signals the end of our Annual Funding Opportunity and our portfolio-based organization for grantmaking. 
Our Programs
In 2022, Meyer Memorial Trust adopted a new mission: to accelerate racial, social and economic justice for the collective well-being of Oregon's lands and peoples.
This shift reflects an important evolution towards a collective vision of justice deeply informed by our staff, leadership and communities. It also elevates and amplifies what we have learned from the equity-based portfolio structure launched in 2015.
As we work to operationalize and build a structure for grantmaking that reflects and honors our new mission, we make this commitment to you: In all of our funding areas and strategic grantmaking, we will remain focused on changing practices and policies that keep some of us down and many of us apart. We believe fostering circumstances that allow people who have been harmed or left behind to thrive ultimately benefits everyone. The inverse is also true: Overlooking the challenges faced by the most vulnerable among us drags down our collective well-being.
We lift up what works, so everyone can thrive.
Together we can make Oregon a place where everyone — from newcomers to those who have been here since time immemorial — can flourish side by side. Grantmaking is one of the most important ways we work with partners to shape an Oregon that delivers for each of its residents. We work in partnership with changemakers who build connections in service of an inclusive and thriving state. The interactive map below displays the grants awarded since Meyer established its four portfolios. To see awards from before 2015, click here.
Initiatives, Collaboratives & Partnerships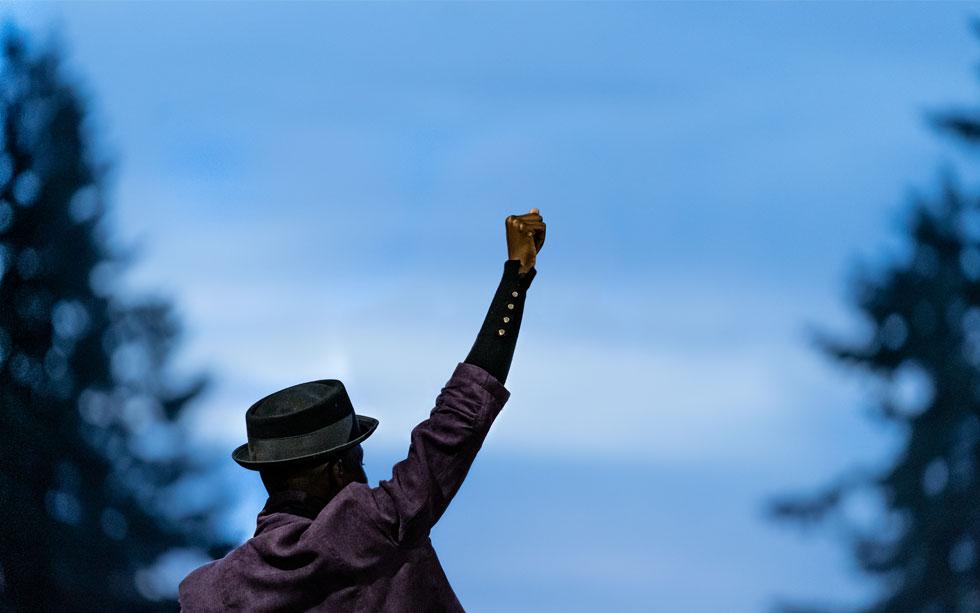 Justice Oregon for Black Lives
Justice Oregon for Black Lives, a five-year, $25 million initiative to uplift Black Oregonians, leadership and organizations is a commitment to harness the momentum toward racial justice by deepening investment in Black-led and Black-serving organizations, community well-being and lasting strategic change.
Oregon Immigrant and Refugee Funders Collaborative
Founded in 2016, this collaborative creates a coordinated and collaborative funding approach to address issues of immigration and refugees in the state, providing direct support to local organizations responding to these issues.
Meyer takes an active role as a convener, to bring leaders together to learn from one another and move forward strategically in collaboration to tackle complex problems and create meaningful change.
Convening has the power to bridge sectors and silos and find common ground between distance and difference. Meyer practices making space so that innovators and problem solvers can develop thoughtful solutions that lead to meaningful action and decisions.
One example of this is our convening of smaller and mostly rural housing organizations at the 2019 Housing Equity Summit. Leading up to the summit, the Housing Opportunities portfolio supported several of these organizations to advance equity and inclusion strategies within their own organizations. By bringing together staff and leadership from these groups, we were able to give them a platform to share their experiences and learn together from their Oregon peers, bolstered by powerful messages from national equity and inclusion experts.
Meyer creates powerful networks that yield ever-greater impact.
As a private 501(c)3 foundation, we are not allowed to lobby for or against specific legislation, ballot measures or candidates, or to earmark grants for the purposes of lobbying. But we do all that we can beyond grantmaking — including using our voice through advocacy and our power to bring players to the table — to support partners who advocate for racial, economic, educational, environmental, housing and social justice.
We recognize the importance of meeting urgent and immediate community needs while also working for changes in public policy. This kind of change often does not happen quickly; supporting policy advocacy magnifies the work of grantmaking partners dedicated to challenging the status quo.
We partner with other funding organizations to advance conversations and marshal regional and national leadership toward our vision: an Oregon in which a zip code isn't a determinant of success.
Most recently, Meyer joined Oregon Community Foundation and The Ford Family Foundation in creating the Community Rebuilding Fund to invest in recovery and rebuilding for Oregon communities devastated by wildfires in 2020. This collective fund will center the most vulnerable Oregonians, and funding strategies are being developed with deep community engagement.
Meyer also works in collaboration on several other fronts:
The Oregon Immigrant and Refugee Funders Collaborative has worked since 2016 to address emerging and urgent issues impacting immigrants and refugees across the state with a coordinated and nimble approach for rapid response grantmaking. Funders include The Collins Foundation, MRG Foundation, Oregon Community Foundation, Pride Foundation and Meyer.
In 2018, funders across the state banded together as the Census Equity Funders Committee of Oregon (CEFCO) to help support a full and fair statewide count in the 2020 U.S. census. This collaborative of more than a dozen foundations created an innovated public/private pooled fund to support a statewide campaign to reach the hardest to count Oregonians.
Chalkboard Project. Since 2014, Chalkboard has worked to improve student achievement across the state. Funders include The Collins Foundation, Ford Family Foundation, James F. and Marion L. Miller Foundation, Oregon Community Foundation, Wendt Family Foundation and Meyer.
The Tipping Point Fund. This fund launched in 2019 with $12.5 million and two central focuses: public engagement and public policy to help grow the industry, and data, metrics and measurement to provide clarity as it develops. Funders include The Rockefeller Foundation, Rockefeller Brothers Fund, Ford Foundation, John D. and Catherine T. MacArthur Foundation, David and Lucile Packard Foundation, Blue Haven Initiative, Omidyar Network, Surdna Foundation, Visa Foundation and Meyer.
The Health & Education Fund. This fund was created to in 2018 improve health and education outcomes for Oregonians, especially for children who face the greatest obstacles. Funders include Oregon Community Foundation, Kaiser Permanente Northwest, CareOregon, Northwest Health Foundation and Meyer.
In addition to collaborative efforts like these, Meyer sometimes invests in efforts spearheaded by peer foundations that complement our core work, such as the Civic Health initiative at Northwest Health Foundation and COVID-related relief funds at Women's Foundation of Oregon, MRG Foundation, and Pride Foundation.
We work in partnership with changemakers who build connections across Oregon in service of an inclusive and thriving state. The interactive map below displays the grants awarded since Meyer established its four portfolios. To see awards from before 2015, click here.
* Statewide grants are not represented in this map.