A coordinated and NIMBLE funding approach
Oregon Immigrant and Refugee Funders Collaborative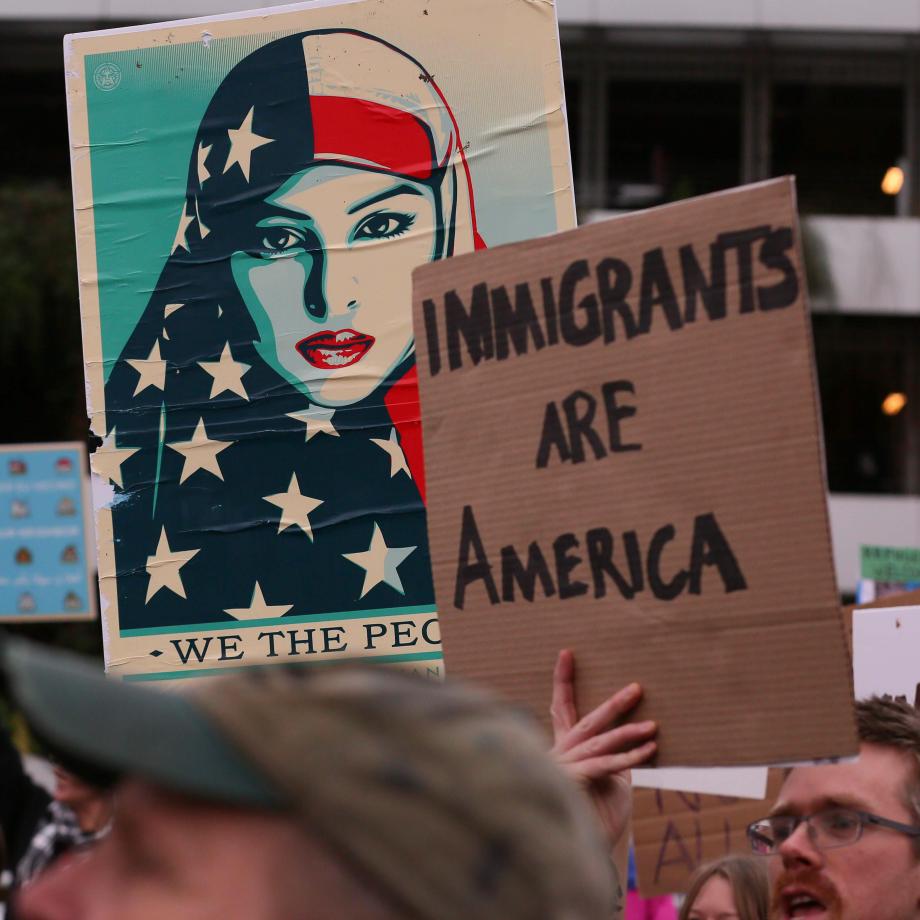 UPDATE: Earlier this year, the Oregon Immigrant and Refugee Funder Collaborative (OIRFC)  engaged in conversations with our grantee partners and other stakeholders to explore how the Collaborative can better serve immigrants and refugees in Oregon. Their feedback is summarized in this short report. Drawing from our partners' insightful feedback and suggestions, we are now reviewing the vision and structure of the OIRFC to increase our impact for organizations doing the critical work to make Oregon a place where we all belong. Over the next few months, we will be sharing more details and engaging stakeholders again as we refine the program. In the meantime, we will soon be announcing our funding guidelines for 2023 grants.
The Oregon Immigrant and Refugee Funders Collaborative, a partnership between The Collins Foundation, Oregon Community Foundation, Pride Foundation and Meyer, establishes a coordinated and nimble funding approach to address emerging and urgent issues impacting immigrants and refugees across the state, and supports local organizations responding to these issues.
Immigrants and refugees make significant contributions to this state. According to an Oregon Center for Public Policy report released in 2016, undocumented Oregonians paid roughly $81 million in taxes to help fund schools and other public services that strengthen Oregon's economy, through property taxes, personal income taxes, and sales and excise taxes.  Economic mobility and social inclusion for newcomers and their children builds communities that are stronger economically and more inclusive socially and culturally.
The OIRFC considers application requests using various methods: a pooled fund, a combination of pooled and aligned funds, or aligned funds only but always in general alignment with eligible areas of support described in this collaborative framework. 
For Meyer applicants: We welcome organizations whose activities relate to the impact anti-immigrant policies have on immigrant and refugee communities to apply to the Oregon Immigrant and Refugee Funders Collaborative. Organizations that have been funded, are currently funded, or may be funded by the OIRFC that have work that falls outside of the collaborative's funding scope (e.g. organizational capacity building for strengthening infrastructure, capital construction, project work not related to OIRFC scope) may apply through Meyer's other opportunities. If your organization has an existing grant award through the Oregon Immigrant and Refugee Funders Collaborative, this should be noted in any new application. Finally, we recommend you contact a staff person from the corresponding portfolio area to discuss your project if you have questions or need further clarification about whether your proposed work is eligible for our funding areas.
 
Funding Structure and Process
"No Wrong Door"
Nonprofit and community groups are encouraged to reach out to any of the representatives from each of the participating funders by email or by telephone. Representatives from participating funders communicate with each other and make any information and document available to the rest of the representatives. Funders will also coordinate their efforts when communicating and/or requesting information from community groups to lessen the burden on answering to different people on similar issues.
Shared Application and Reporting
The funders collaborative share a common application form. A submitted application does not guarantee a grant award. Someone from the collaborative may contact the applicant for additional questions as needed or required. At the end of the grant period, grantee submits one report in a format supplied by the collaborative.
Funding process. Application review. Reporting
The collaborative does not have established funding cycles or a formal RFP (Request for Proposals) process. The intent is to offer a nimble and responsive way that reduces the wait time for grantees. The collaborative member who receives the application makes it available to other members for joint review and discussion. If additional clarifying questions arise, a member of the collaborative contacts the applicant to secure the answers. The members may choose to fund an application using various methods: a pooled fund, a combination of pooled and aligned funds, or aligned funds only. An applicant may receive one grant check if funding is provided through a pooled fund, or separate checks and letters of award if multiple funders are supporting the project. If a project is supported by multiple funders, the applicant may submit only one report as directed by the collaborative.
Funding Criteria
The collaborative funders will consider applications from eligible organizations that are 501(c)(3) exempt or have a qualified fiscal sponsor. The collaborative will consider and give priority to proposals for projects and programs that directly address the impact of policies and actions implemented after November 2016. For other projects serving immigrants and refugees, applicants are encouraged to contact each of the funders separately. Funding will cover proposed activities for a 12-month period. An organization may submit only one application within a 12-month period. A proposal of $50,000 or more to this collaborative is considered a large request. Any collaborative member may choose to fund an application outside the parameters of the eligibility requirements set forth in this document. Members of this collaborative may also choose to fund the applicant organization for another project within the same time period.
Funding Eligibility – what we'll fund (areas of interest)
Collectively the funders collaborative will consider requests for projects that provide:
Legal information/advice, services and representation for immigrants and refugees
Outreach and education about policies, programs, services, and preparedness
Information gathering, research and analysis on immigration and refugee issues
Basic human needs for immigrants and refugees
Community organizing, civic engagement and advocacy
Individually, any collaborative member may choose to invest more in some areas than others, but the response to the organizations and community will be coordinated.
COVID-19 Response
The Funders Collaborative remains committed to its original priority of directly addressing the impact of policies and actions implemented immediately after November 2016. However, it also recognizes that immigrants, refugees, and the organizations that serve them are being disproportionately impacted by the current situation; that the pandemic has given rise to yet another wave of racism and discrimination against API and other communities; and that access to safety-net mechanisms may be unavailable to some immigrant, asylee, and refugee communities. 
The Funders Collaborative will consider applications from organizations working at the intersection of responding to federal policy changes and COVID-19. Applications for COVID-19 response will be considered from organizations whose work would otherwise be eligible.
We also encourage immigrant and refugee serving organizations to access all of the other resources available to them at this time. 
Participating Funders
The Collins Foundation |  Carol Cheney, ccheney [at] collinsfoundation.org (ccheney[at]collinsfoundation[dot]org)
Meyer Memorial Trust | Sally Yee, sally [at] mmt.org (sally[at]mmt[dot]org) | Mike Phillips mike [at] mmt.org (mike[at]mmt[dot]org)
The Oregon Community Foundation