"If we want a beloved community," the late bell hooks once wrote, "we must stand for justice."
In 2020, amid a once-in-a-century pandemic and the largest popular uprising for racial justice seen in this country in generations, Meyer established the Justice Oregon for Black Lives initiative. It was immediately our biggest single project ever, funded at twice the amount originally suggested, and imbued with goals and guiding principles that we have adapted over time, but never abandoned.
We are thrilled to announce that, in our second round of funding to date, Justice Oregon is granting $4.8 million to 49 state-based and local organizations, including 14 organizations that will receive multi-year funding.
In her recent message on Meyer's new mission statement and the work ahead, outgoing CEO Michelle J. DePass, whose vision and voice brought Justice Oregon to life, wrote, "Justice goes beyond building a flourishing and equitable Oregon. It is a commitment to correction. Our commitment to repair and restore."
Recognizing institutional philanthropy's role in perpetuating current systems of power, we're determined to transform this dynamic and ensure our grantmaking honors the values that we've set forth. That means holding ourselves accountable to our community and our values, and it informed the participatory grantmaking approach that got us to the vibrant group of organizations we're supporting through Justice Oregon.
Over the past year, we have engaged in conversations with dozens of community members all over the state, representing every sector from agriculture to the arts. Supported by Meyer staff, our mighty team of two held 10 bi-weekly community conversations with Black facilitators to come to consensus on how to make incremental progress toward Black liberation through five priority funding areas. The list of grantees below represents the first three priority funding areas: economic justice, investing in education, and reimagining public safety. And we're excited that tomorrow we open our invitation-only process for the remaining two funding areas: changing the Black narrative through arts and culture; and, addressing trauma and healing in the Black community.
These conversations reinforced our personal understanding that Black people across Oregon are not a monolith — our needs and vision for the state are informed by the lived experience of our many intersecting identities. What we are all committed to, however, is a vision of thriving Black communities free from the constraints of white supremacy.
As Black History Month comes to a close and Women's History Month begins, Meyer's Justice Oregon team is celebrating Black hope and optimism by announcing this inaugural round of grants made with deep input from Black communities and in support of leaders and movements helping to shape Oregon's future. We are honored that many of this grantee cohort are organizations led by Black women and Black-led and serving organizations of all sizes in our communities.
Throughout the grantmaking process, we've worked with a rotating grant review committee of 10 Black leaders — both from the world of philanthropy as well as other sectors — who've candidly shared their visions of justice, the needs of Black Oregonians and ways that philanthropy can help right systemic wrongs and be a transparent partner to them in support of a liberated Black future. Their input was integral in determining our 49 Justice Oregon grantees.
—Allister
Multi-year funding recipients
African Youth and Community Organization
Micro Enterprise Services of Oregon (MESO)
NW Accelerator
Single-year funding recipients
Black Educational Achievement Movement (BEAM) Village
Beaverton Black Parent's Union
Bethel African Methodist Episcopal Church
Center for African Immigrants & Refugees of Oregon (CAIRO)
Center for Intercultural Organizing
Friends of the Children - Portland
Lewis & Clark Black Pardon Project
Multnomah Educational Services District (MESD)
Oregon Alliance of Black School Educators (ORABSE)
Professional Business Development Group (PBDG)
Portland Community Reinvestment Initiatives (PCRI)
RACE TALKS: Uniting to Break the Chains of Racism
The Love Coalition
Youth Organized and United to Help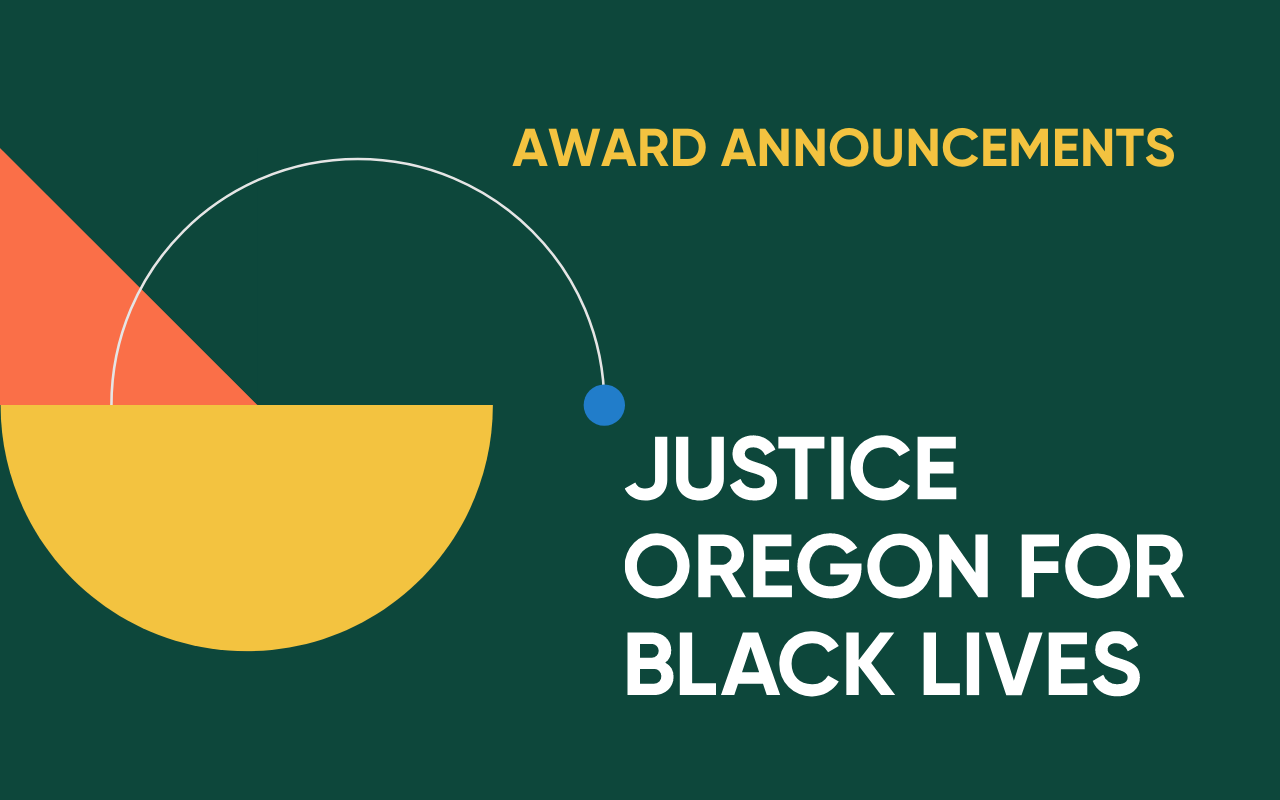 Justice Oregon announces funding to 49 organizations, including 14 that will receive multi-year support.