Turns out a collaboration born of a deep understanding of equity, an appreciation for urban planning, and diverse skills, can be a successful one.
Kathryn Hartinger, 39, develops zoning code for the Portland Bureau of Planning and Sustainability (BPS). Marc Asnis, 29, works as an urban designer at the city agency.
Over lunches and a few weekends of brainstorming, their "Oregonians Are All Connected" illustration took shape. Together, they partnered to turn a concept into a tangible representation of how equality and equity differ. Their efforts earned them second place in the Equity Illustrated adult design contest.
"I had an idea but I had no graphics skills. But I knew Marc did. So we just started chatting," says Kathryn, a native of Springfield, VA. She uses a masters in Urban and Regional Planning from Portland State University, a PhD in conflict resolution from Syracuse University, and a background in mediation to turn arcane policy into the rules that guide growth and development in Portland.
"We started with the idea that equity was a key to success," says Marc, a native of New York City. A master's degree in architecture from the University of Oregon and a knack for visualizing ideas helps Marc turn dreams into brick-and-mortar reality.
The colleagues learned about the contest about a month before the deadline, when Desiree Williams-Rajee, BPS' equity specialist, announced the contest at work.
Their four-panel submission makes the case that education, healthcare, housing, the environment, government and philanthropy are gears in the machine that is Oregon. Applying identical, cookie-cutter resources to the needs of different Oregonians and institutions doesn't work. But when resources are applied equitably, addressing our unique needs, the state functions.
"Equity isn't about some people getting something and others not getting something. It's about people just needing different things," Kathryn explains.
In city planning, Marc and Kathryn watch different needs and resources play out in neighborhoods across Portland.
"Some neighborhoods don't need new sidewalks," says Marc. "Some need paved streets, some need stormwater mitigation, others need tree canopies or need to remediate pollutants in the air. A major guiding principle of our City's newly adopted Comprehensive Plan is to create a more equitable city."
Kathryn says they are no easy answers on the road to making a more equitable Portland.
"We do a ton of public outreach and engagement with communities, business groups and coalitions to determine what each neighborhood needs. People have different opinions so we have to balance those. But equity really is about tailoring those solutions and prioritizing resources where they're needed most."
Split down the middle, Kathryn and Marc plan to put their prize money to good, but different uses.
"Kathryn is going to fix her roof," says Marc.
"Roof or tires," she agrees. "But I would also probably do something with my kids."
Marc says he'll take his prize money and apply the resources to a different need: "I am hoping I can finally have some money saved away. This could be my nest egg."
Kathryn Hartinger & Marc Asnis' winning image: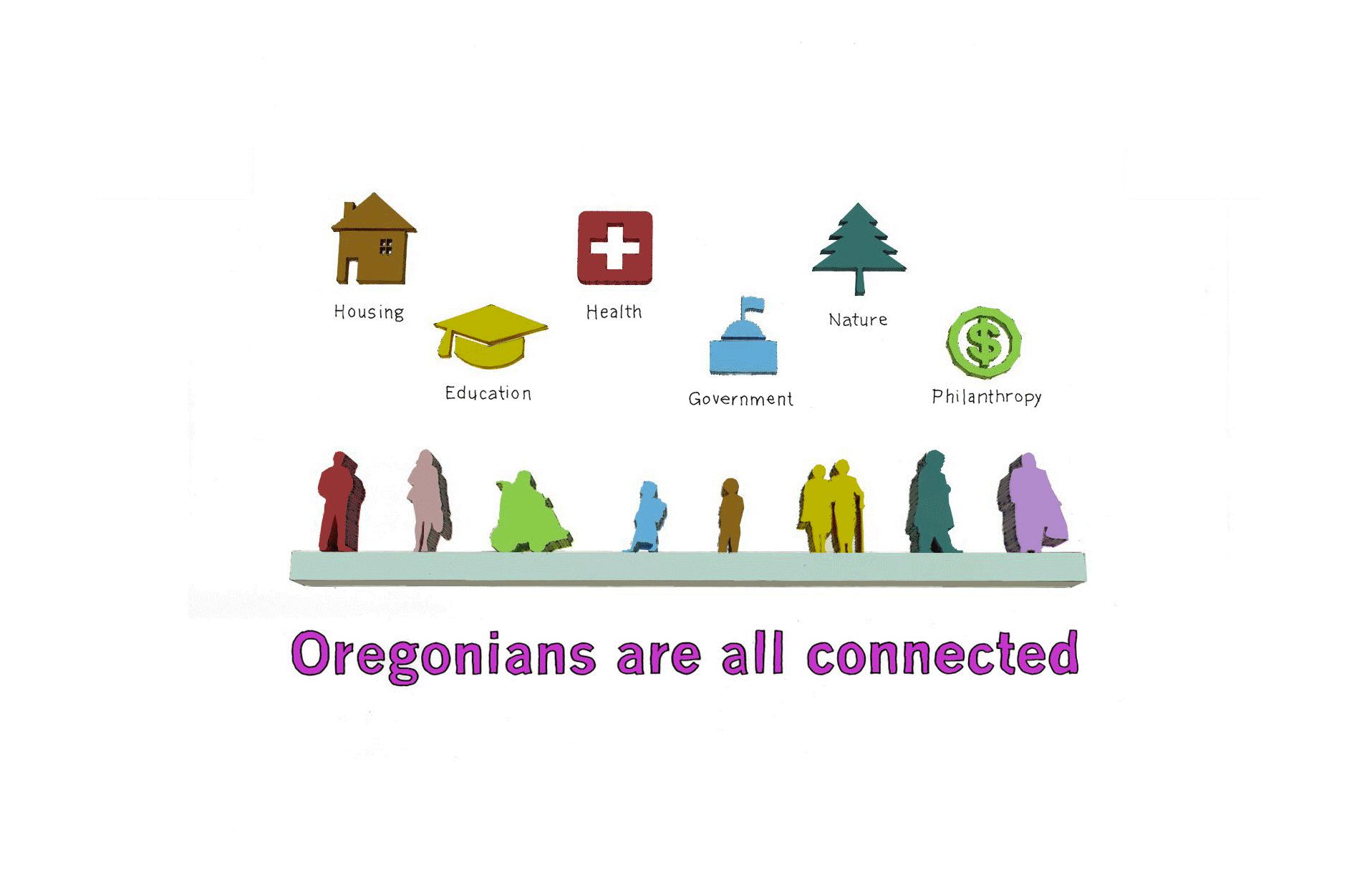 A PDF version of Marc and Kathryn's winning illustration is available here.