WILLAMETTE RIVER INITIATIVE
Rallying Around a River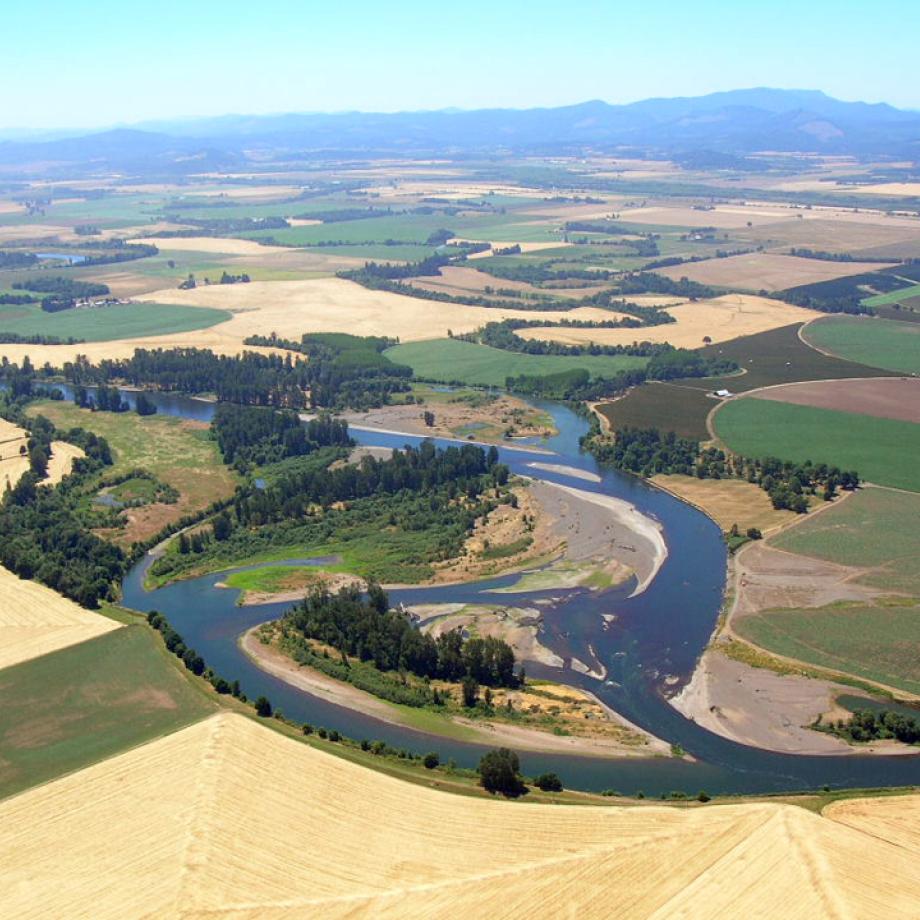 Beginning in 2008, Meyer's Willamette River Initiative (WRI) worked to improve the health of the Willamette River system, the largest river system contained entirely within Oregon's borders. The WRI concluded at the end of 2019 after $20 million in grants and a robust effort to build a community of support for river health. Grants funded habitat restoration and organizational capacity, enabling nonprofits and their partners to vastly scale up their work, be more strategic and plan for the long term. By the initiative's end, restoration work on the mainstem Willamette River and in seven major tributaries had increased nearly 15-fold.
Strong partnerships were the bedrock of the WRI. Meyer joined forces with public funders the Oregon Watershed Enhancement Board and the Bonneville Power Administration to unlock greater potential than any funder could alone. Meyer's deep partnership with the Bonneville Environmental Foundation, a Portland-based nonprofit, helped build crucial capacity in the field to achieve greater restoration outcomes. This "stronger together" mentality is now embedded across the Willamette River Basin. Several regional networks composed of WRI grantees and their partners are working to tackle shared challenges in a coordinated way.
The WRI paired grant funding with basin-wide coordination and learning opportunities that brought disparate groups and individuals together toward a common vision for the Willamette. The initiative took a hands-on approach to network weaving. Over the 10 years, the WRI hosted five 'Within Our Reach' conferences, regular grantee retreats and numerous smaller convenings. It funded research to deepen our understanding of the river and provided a venue for scientists and restoration practitioners to meaningfully connect knowledge with on-the-ground practice. In 2015, the WRI produced a Willamette River report card in collaboration with over two dozen data-holding agencies. That same year, the initiative adopted a new goal to advance diversity, equity and inclusion in the river health movement. The WRI launched a series of cohort learning opportunities for grantees in partnership with the Center for Diversity and the Environment and Gladys Ruiz Consulting. These activities, and more, were the "glue" that helped build a community.
As the initiative came to a close, the WRI worked with a diverse group of 17 advisors to launch a vision for continuing this momentum into the future outside Meyer. The Willamette River Network formed in 2019 with a vision for an equitable river movement where people and rivers thrive together.
Now, we can look back on the WRI and take stock of its impact through an in-depth evaluation by Portland-based firm Dialogues in Action. The evaluation report is a rich trove of data that we'll use to inform future long-term investments like the WRI. Download the full report here.
Four standalone case studies take a deeper look at the WRI's greatest areas of impact.